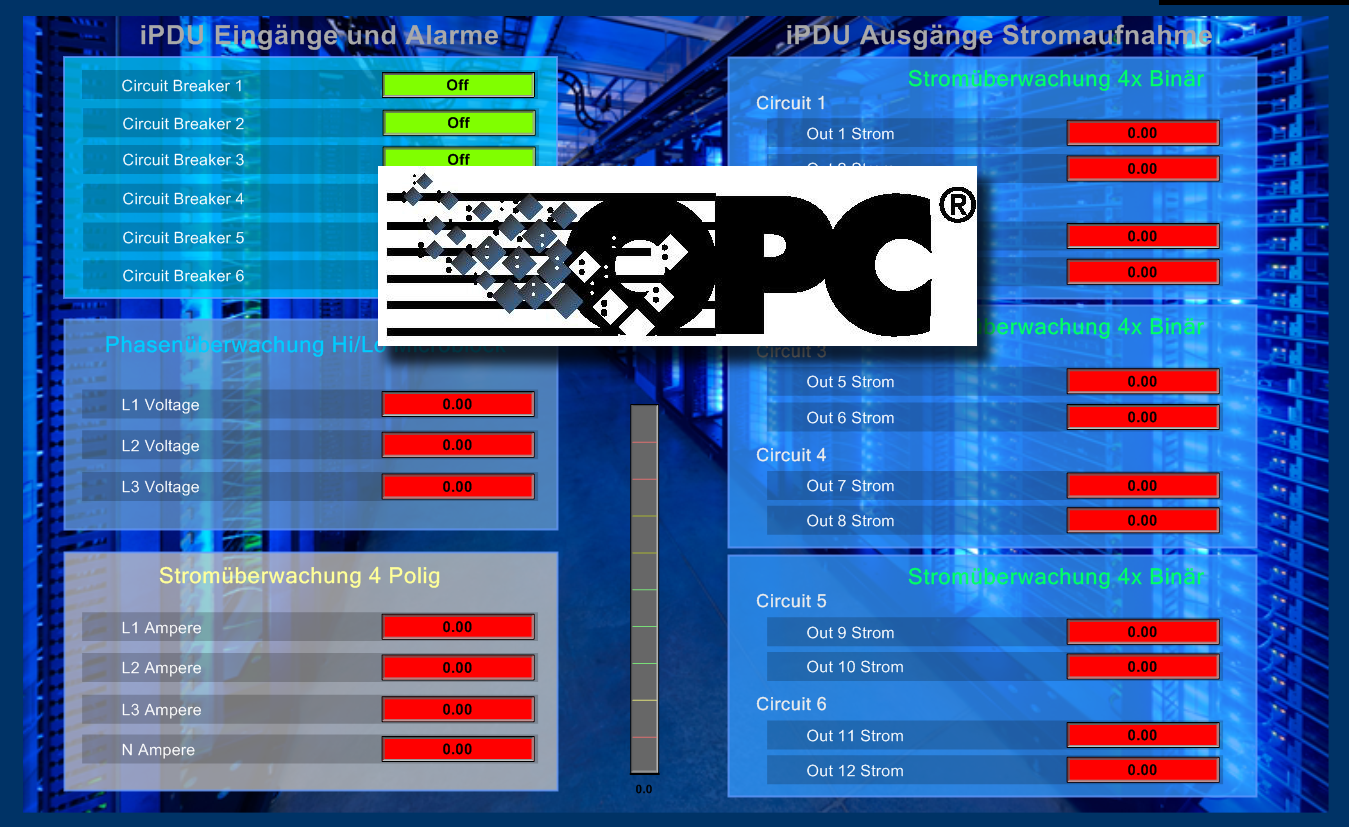 ---
Now all of our servers support OPC Classic (COM/DCOM) and OPC UA.
Experience
Resource Solutions has been developing device drivers for over 25 years. Since the last 15 years Resource Solutions has been developing OPC Servers for other companies. Now, Resource Solutions decided to take it's knowledge in writing proprietary drivers and turn them into OPC Servers.
OPC Servers are also a fundamental part of Wow BMS/Ems and DCIM Monitoring solutions.
An OPC Server allows your system to connect to a proprietary system without your system having to know how. Then your system can connect to our OPC Server over the standard OPC protocol. It's that easy.
Currently we are going through the list below of OPC Servers and developing them on demand.
The OPC Servers come with a license file. A license key generator, needed by Resource Solutions, to create the license, can be downloaded RSOPCKeyGenerator.zip, if not installed in the license sub-directory.
Demos, that run all devices fully functional for 2 hours, are available for your OPC Server.
Server Development
If you need an OPC Server and we do not currently have it, we can develop it for you. Depending on complexity, we could have your OPC Server finished within a week. Allow our highly qualified OPC Server development team to meet your demands!
Some of our Clients

OPC Server List
Here is the list of OPC Servers that are a currently planned or finished. Please contact This email address is being protected from spambots. You need JavaScript enabled to view it. if your server is not on the list.
All servers now support both OPC Classic (COM/DCOM) and OPC UA.
Category/Klasse
Device
OPC Server Name
History DB
Status
 
 
 
Writes designated values to an ODBC database.
 
Fire/Brandmelder
 
 
 
 
 
Labor Strauss Brand
LBC
 
 On Demand
 
Esser BMZ 3008
 
 
 On Demand
 
Siemens SDN-RING Brand
 
 
 On Demand
 
Hekatron BMZ
 
 
 On Demand
 
Hekatron BMZ 3000
ESPA 4.4.4
 
 Available
 
Zettler Brandmeldesystem
Filnet
  
 Available
 
Siemens SIGMASYS
SigmaSys
 
 Available
 
GreCon BS7 Funkenlöscher
 
 
 On Demand
 
Lites MHU 109 Brandmeld.
 
 
 On Demand
 
Caradon Gent System 3400
 
 
 On Demand
 
Zettler BMCI
AED
 
On Demand
 
Siemens SIGMAPORT
SigmaSys
 
 Available
 
Esser BMZ 8008
Esser
 
 On Demand
 
Cerberus BMZ CS11
Cerberus
 
 Available
 
Schrack BMZ MAXIMA (ZZK)
Schrack BMZ
 
 Available
 
Methec BMC 90
 
 
 On Demand
 
DBM BMZ
 
 
 On Demand
 
FAST2000 BMZ
Filnet
 
 Available
 
Tyco ZX BMZ
ZX/MX Expert
 
 Available
 
EsserNet
EsserNet
 
 Available
 
UTC Fire (BacNet Aritech)
BACNet
Yes 
 Available
 
UTC Fire (Modbus Aritech)
Modbus
Yes 
 Available
Key Management/ Schlüsselverwaltung
 
 
 
 
 
Ecos Webman II
Ecos Webman II
 
 Available
 Access Control/Zutritt
 
 
 
 
 
Interflex 5060, Visonik
 
 
 On Demand
 
Isgus ZK
 
 
 On Demand
 
Siemens SiPort
Siport
 
 Available
 
Interflex 6020
 
 
 On Demand
 
MANIAGO & HENSS TSS ZK
 
 
 On Demand
 
Northern Zutrittskontrolle
 
 
 On Demand
 
COTAG Zutrittskontrolle
 
 
 On Demand
 
Tenodat 9000
 
 
 On Demand
 
Inform PC
 
 
 On Demand
 
Identix TouchLock II
 
 
 On Demand
 
BoGuard
 
 
 On Demand
 
Hi Sec - THOR Terminal
Thor
 
 Available
 
IDCS S1000 Zutritt
 
 
 On Demand
 
Gantner FLEX Zutritt
 
 
 On Demand
 
Nedap Terminale
 
 
 On Demand
 
STUV
STUV
 
 Available
Intrusion/Einbruch
 
 
 
 
 
ATS Intrusion
ATS
 
 On Demand
 
ATS Intrusion (UTC)
ATS
 
 Available
 
Siemens SDN-RING Einbr.
 
 
 On Demand
 
Sentrax Bodenmeldersys.
 
 
 On Demand
 
Esser EMA 5007
Esser
 
 On Demand
 
Zettler Einbruch
Filnet
 
 Available
 
Securiton Einbruch
 
 
 On Demand
 
Zettler Uni-Zentrale
Filnet
 
 Available
 
Esser EMA 5008
 
 
 On Demand
 
Labor Strauss Einbruch
LBC
 
 On Demand
 
Cerberus Einbruch CS440
Cerberus
 
 Available
 
Aritech CD95 Einbruchmel
 
 
 On Demand
 
Wegotronic BC, Sensoren
Wego
 
 On Demand
 
Eff Eff Zentr. 561-MB100
 
 
 On Demand
 
Hi Sec - THOR Intrusion
Thor
 
 Available
 
Eff Eff Zentr. 561-MB256
 
 
 On Demand
 
ABI MC1500 Gef.meldsyst.
ABIMC1500
 
 On Demand
 
Bosch UEZ 2000
Bosch UGM
 
 Available
 
Telenot complex 400H
Telenot
 
 On Demand
Universal
 
 
 
 On Demand
 
openHAB
openHAB
 
 Available
 
Bosch UGM EAPS 3-5
Bosch UGM
 
 Available
 
Bosch UGM EAPS 6
Bosch UGM
 
 Available
 
Siemens SM88
SigmaSys
 
 Available
 
Securiton Pro
 
 
 On Demand
 
Profinet
Profinet
Yes
 Available
 
Siemens SM-PORT
SigmaSys
 
 Available
 
SNMP
SNMP
Yes
 Available
 
Securiton Pro R01.03.00
 
 
 On Demand
Base Protocol
 
 
 
 
 
Zettler Netzwerk
Filnet
 
 Available
 
Zettler AED Protokoll
AED
 
 On Demand
 
Schneider Protokoll
Schneider
 
 On Demand
 
MTR 21xx Protokoll
MTR
 
 On Demand
 
Northern Protokoll
Northern
 
 On Demand
 
Ernitec IEC Protokoll
Ernitec
 
 On Demand
 
Cotag Protokoll
Cotag
 
 On Demand
 
Stentofon ISO Protokoll
Stentefon
 
 On Demand
 
cc2000 Protokol
CC2000
 
 On Demand
 
Sdn Protokoll
Sdn
 
 On Demand
 
Cerberus Proto MK7022
Cerberus
 
 Available
 
Commend GE100 Protokoll
Commend
 
 On Demand
 
Schrack ZZKE Protokoll
Schrack
 
 On Demand
 
Gunnebo Wego Protokoll
Wego
 
 On Demand
 
MANIAGO HENSS TSS Proto
ManiagoHens
 
 On Demand
 
Eff Eff Isgis-Lan Proto
EffEff
 
 On Demand
 
Hi Sec - THOR Base Prot.
Thor
 
 Available
 
ABI MC1500 Protokol
ABI MC1500
 
 On Demand
 
Siemens SiPort Proto VMX
Siport
 
 Available
 
Nedap Protokoll
Nedap
 
 On Demand
 
Tyco ZX Protocol
ZX/MX Expert
 
 Available
Transmission/Übertragung
 
 
 
 
 
Telenot T608
 
 
 On Demand
 
DigiFon TDS 3000 S
 
 
 On Demand
 
Wachtel-Technik Digem
 
 
 On Demand
 
Telenot T75
 
 
 On Demand
Other/Anderes
 
 
 
 
 
Schott - Simatic Net
 
 
 On Demand
 
ICT Show-Steuerung
 
 
 On Demand
 
Ascom DiriCall-Anlage
 
 
 On Demand
 
Cerberus Gas CS60
Cerberus
 
 Available
 
 
 
 
 
Contact/Kontakt
 
 
 
 
 
Schneider Muxer (S.A.M.)
 
 
 On Demand
 
MTR 21xx Muxer
 
 
 On Demand
 
Ernitec Muxer
 
 
 On Demand
 
Cotag Muxer
Cotag
 
 On Demand
 
Zettler 32 I/O System
Filnet
 
 Available
 
American Dynamics Alarm
 
 
 On Demand
 
Heimann VKH1000 Kontakte
 
 
 On Demand
 
Stentofon Rio-Modul
 
 
 On Demand
 
CC2000 Muxer
CC2000
 
 On Demand
 
Commend GE 100 Muxer
Commend
 
 On Demand
 
Wegotronic BC, Kontakte
Wego
 
 On Demand
 
MANIAGO HENSS TSS Muxer
ManiagoHens
 
 On Demand
 
TeleControl Kontakte
 
 
 On Demand
 
Siemens SiPort Kontakt
Siport
 
 Available
 
Nedap Muxer
Nedap
 
 On Demand
Building Automation/
Industrial Automation
 
 
 
 
 
Staefa Control GLT
 
 
 On Demand
 
Siemens Siclimat X
 
 
 On Demand
 
Johnson Control GLT
 
 
 On Demand
 
SAIA DDC
 
 
 On Demand
 
TREND DDC
 
 
 On Demand
 
LON
 
 
 On Demand
 
EIB (Knx IP and RS232)
EIB
Yes 
 Available
 
Profibus GA Profil
Profibus
 
 On Demand
 
Profibus FMS
Profibus
 
 On Demand
 
Profibus DP
Profibus
 
 On Demand
 
Janitza Univ. Messgerät
 
 
 On Demand
 
MANIAGO HENSS TSS BA
 
 
 On Demand
 
Frako Starkstrombus
 
 
 On Demand
 
Landis & Staefa SGU BA
 
 
 On Demand
 
Interbus S Client
 
 
 On Demand
 
Thomas Parkhaus
 
 
 On Demand
 
BACNET
BACNet
Yes 
 Available
 
MQTT
MQTT
Yes 
 On Demand
 
Modbus TCP
Modbus
Yes 
 Available
 
Modbus RTU
Modbus
Yes 
 Available
 
Honeywell DDE Excel 5000
 
 
 On Demand
 
GilBarco TLS 200, TLS 250, TLS 250i
GilBarco TLS
 
 Available
 
GilBarco TLS 300, TLS 350, TLS 350R
GilBarco TLS
 
 Available
 
GilBarco TLS 4, TLS 450, TLS 450Plus
GilBarco TLS
 
 Available
 
Start italiana MagLink 16T
GilBarco TLS
 
 Available
 
HART (and Wireless-Hart)
Hart
 
 On Demand
 
AS-Interface Protocol
AS-Interface
 
 On Demand
 
EtherCAT
EtherCAT
 
 On Demand
 
Siemens S7
Siemens S7
 
 On Demand
 
Kieback & Peter P90 GLT
KPDDC
 
 On Demand
 
Kieback & Peter DDC 3000
KPDDC
 
 On Demand
 
Endress & Hausser DXF351
EHDXF351
 
 On Demand
PA/Lautsprecher
 
 
 
 
 
TOA ELA
 
 
 On Demand
 
MTR 21xx Audio
 
 
 On Demand
 
SAP ELA
 
 
 On Demand
 
Peicom ELA
 
 
 On Demand
 
Commend GE100 ELA
 
 
 On Demand
Intercom/Gegensprecher
 
 
 
 
 
TOA GELA
 
 
 On Demand
 
EFE Zellensprechanlage
 
 
 On Demand
 
Schneider Sprechsysteme
 
 
 On Demand
 
Ericsson ASA
 
 
 On Demand
 
Stentofon AlphaCom
 
 
 On Demand
 
Commend GE100 Gela
 
 
 On Demand
Pager
 
 
 
 
 
Ericsson Pager
 
 
 On Demand
 
Philips Pager
 ESPA 4.4.4
 
 Available
 
Motorola Pager
 
 
 On Demand
 
Schneider Pager
 
 
 On Demand
 
Short Messaging Services (SMS)
 
 
 On Demand
 
Ascom Tateco Pager
 ESPA 4.4.4
 
 Available
 
Ascom OAP Pager
 Ascom OAP
 
 Available
 
SMTP Mail Driver
 
 
 On Demand
 
Paging Blick
 ESPA 4.4.4
 
 Available
 
Ericsson Pager PSP1
 
 
 On Demand
 
ESPA 4.4.4 Gateway
 ESPA 4.4.4
 
 Available
 
ESPA-X Gateway
 ESPA-X
 
 Available
 
Tetronik DAKS (ESPA-X)
 ESPA-X
 
 Available
 
Siemens OSCAR (ESPA-X)
 ESPA-X
 
 Available
Elevator/Lift
 
 
 
 
 
Thyssen Lift
 
 
 On Demand
 
Krone Lift
 
 
 On Demand
Telephone/Telefon
 
 
 
 
 
Skype
Skype
 
 Available
 
Siemens Hicom
 
 
 On Demand
 
Tapi Telefon
 
 
 On Demand
 
Capi Telefon
 
 
 On Demand
Video
 
 
 
 
 
ATS Videokreuzschiene
 ATS
 
 On Demand
 
Grundig VAZ 300
 
 
 On Demand
 
Siemens Simatrix
Simatrix
 
 On Demand
 
Videotronic
 
 
 On Demand
 
Burle Videokreuzschiene
 
 
 On Demand
 
American Dynamics Camera
 
 
 On Demand
 
Sony Kamerasteuerung
 
 
 On Demand
 
Videv
 
 
 On Demand
 
Heimann VKH 80
 
 
 On Demand
 
Linke VKS
 
 
 On Demand
 
MTR 21xx Kamerasteuerung
Mtr
 
 On Demand
 
Ernitec Video
Ernitec
 
 On Demand
 
Heimann VKH1000 Video
Heimann
 
 On Demand
 
Schneider Soft Video
Schneider
 
 On Demand
 
Philips VKS
 
 
 On Demand
 
Siemens Simatrix 648
Simatrix
 
 On Demand
 
Geutebrueck GST
 
 
 On Demand
 
ips C20/F20c
 
 
 On Demand
 
Telecontrol Video
 
 
 On Demand
 
cc2000 CP
 
 
 On Demand
 
Argovision (TVI Lederer)
 
 
 On Demand
Video Recorder
 
 
 
 
 
cc2000 VRec
 
 
 On Demand
Radio/Funk
 
 
 
 
 
T1600 Druckerausgang
 
 
 On Demand
 
Blackbox Funkkonsole
 
 
 On Demand
 
Schneider 7T
 
 
 On Demand
 
Bosch Telecom Funk RP201
 
 
 On Demand
 
MAP 27
 
 
 On Demand
 
Ascom telePROTECT 900
 
 
 On Demand
 
Deister Funk
 
 
 On Demand
VIP
 
 
 
 
 
Meier EDV - BASIS-ÜBVR
 
 
 On Demand
 
Gina-NT
 
 
 On Demand